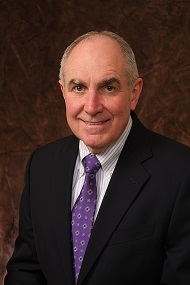 Tom Howard
Inspector General
Tom Howard was appointed Inspector General on February 4, 2014 after serving as Deputy Inspector General since April 26, 2010. Mr. Howard has more than four decades of experience in the federal accountability community, including 8 years as Deputy Inspector General at the National Aeronautics and Space Administration (NASA), where he assisted the Inspector General (IG) in leading the office's diverse audit and investigative programs. While at NASA, he also served as the Acting Inspector General for 7 months.
From 1998 to 2002, Mr. Howard served as Deputy Assistant Inspector General for Maritime and Surface Safety Issues at the Department of Transportation. As a senior executive, he provided leadership for the office's audit oversight of all Coast Guard and Maritime Administration activities, motor carrier and vehicle safety programs, and multibillion-dollar highway and transit infrastructure projects.
Prior to joining the IG community, Mr. Howard had a 24-year career with the Government Accountability Office (GAO); his last position was Assistant Director for National Security and International Affairs Audits. He spent 16 years in GAO's headquarters in Washington, D.C., and 8 years in its overseas offices in Frankfurt, Germany, and Honolulu, Hawaii. Throughout his career, he was involved in the oversight of numerous federal programs and a variety of issues, including program management, procurement, information technology, and international affairs.
Originally from Carbondale, Pennsylvania, Mr. Howard has a B.S. degree in accounting from the University of Scranton. He completed the Federal Executive Institute's Leadership for a Democratic Society Program and the National Defense University's National Security Management Seminar. His commitment to oversight has been recognized with a United States Presidential Rank Award for Career Senior Executives, GAO's Meritorious Service Award, and the Frank C. Conahan Leadership Award.